Services Provided:
Audio production:
Recording
Editing
Mastering
CD Duplication
CD Labeling
Video production:
Recording
Editing
Mastering
DVD Authoring
DVD Duplication
DVD Labeling
Other Services:
Web Broadcasting (coming soon)
24 Hour Internet Radio (KOGP Gospel Internet Radio) (coming soon)
Business Cards
Flyer Cards
Concert Sound Reinforcement
Consulting
About The CEO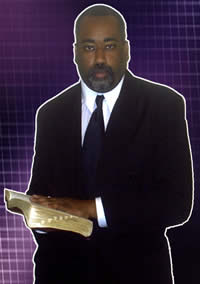 I Love Christ and I love helping pastors and artists get the word of God to the world.
Minister Eric Morse 36, is a born again believer of God. Born to Wash Allen Jr. & Brenda Morse, Married to Dinah G. Morse Has one daughter Briana Ruffin & three step sons Cedric, Keith, James. Minister Eric Morse was taught at an early age of radio broadcasting by his dad and the staff of K.C.O.H. Radio. Then later moved to Louisiana raised by his grandmother the late "Mercedes Bruno Morse" & his uncle John Morse raised in the church. At the age of 25 he was in a terrible car accident left him paralyzed waist down.
Later he got married to Dinah Griffin Morse in December 7, 1998 also has one daughter Briana Ruffin. Then he was called by God to help bring the word of God out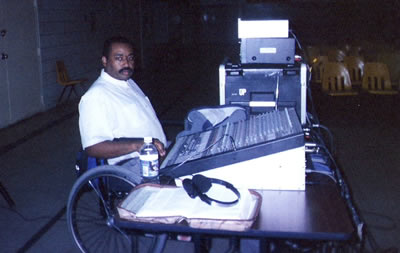 more. Then later he found himself doing audio production going on to produce & write songs for several gospel artist like: Big C, Lil Quinn,The Annoited 3, Sean Collins, Pastor Brian Lewis & the Crew, Men Of Grace, recording pastors, gospel artist, sound reinforcement for different artist like Donnie McClurkin, Marvin Sapp, Rance Allen, and later he was taught in video production at New Home Ministries pastored by Bishop Robert Charles Blakes Ministry tought by his Media Engineer in New Orleans. Then went on went on to taping TV programs for area churches and talk shows. In the year 2001 God gave him a scripture Matthews 6:33 Seek ye first the Kingdom Of God henceforth the Kingdom Of God Production was born. Then later was license by his spiritual father & mother Pastors Brian & Monica Lewis FREE Ministries to preach the word of God and later to be ordained.
Minister Eric Morse
327 Cardinal St.
Morgan City, LA 70380
Phone: 985-384-3098
Cell: 985.518.6278
Email: kogpinfo@yahoo.com
Web address: www.kingdomofgodproduction.com
Skills: In the last 13 years as a Christian Media Engineer and Owner, I have produced 3 albums of three local artist Big C of Houma, La., Lil Quinn of Houma, La., The Anointed 3 of Baton Rouge, La. And upcoming artists Wilson Benoit & Cue Cross and have directed and produced FREE Ministries TV programs and Sisters Connection. I have done concert sound reinforcement for FREE Ministries when they had Pastor Donnie McClurkin, Pastor Rance Allen, and Pastor Marvin Sapp. I have over 12 years in sound reinforcement, 9 years in video production, 12 years in Audio Production.I been A volunteer since August 2001 to the present day. Pastors: J. Brian Lewis & Monica Lewis Job Title: Minister, Media Engineer (Sound Reinforcement, Cameraman, other various duties) FREE Ministries Morgan City, La.
Job Duties: Minister/Teacher/Engineer; Overseeing media crew and operating sound mixing board & TV camera. Making church flyer's and posters using Adobe Photoshop CS2 Editing church programs & creating commercials using Adobe Premier 1.5 I currently own Kingdom Of God Production of Morgan City, La. It was created in May 1998 it is a Christian media company that provides the necessary tools for the area and national pastors, artist, etc. Equipment: I edit regularly in adobe premier 1.5, I have experience in pro tools for audio recording and mastering. Sonic DVD it, Roxio DVD, DVD recorders and a variety of mixing boards,
Camera: I am use to the Cannon GL2, Cannon ZR 2009. I am also learning other types of equipment and software.
Client List: Client I have helped produced for is FREE Ministries Of Morgan City, La, United Souls Production of New Orleans, La., Sisters Connection TV program, The Fellowship Of Love Gospel Stage of Morgan City, La., Big C of Houma, La., Lil Quinn of Shreveport, La., Wilson Benoit Of Lafayette, La., Men Of Grace New Iberia, La., The Anointed Three Of Baton Rouge, La., Moses Baptist Church, First Baptist Church of Vacherie, Minister Zachary Lennix of Laplace, La., Bishop Eric Rush of Mississippi.
About Kingdom of God Production
Kingdom Of God Production is a company that was founded in the year of 2001. KOGP was founded on the scripture; Matthews 6:33 Seek Ye First The Kingdom Of God. Henceforth Kingdom Of God Production was birthed. Gospel Artist, Pastors, Churches, etc, could come under the covering of the Holy Ghost to do what God has called them to do. KOGP has many services available.